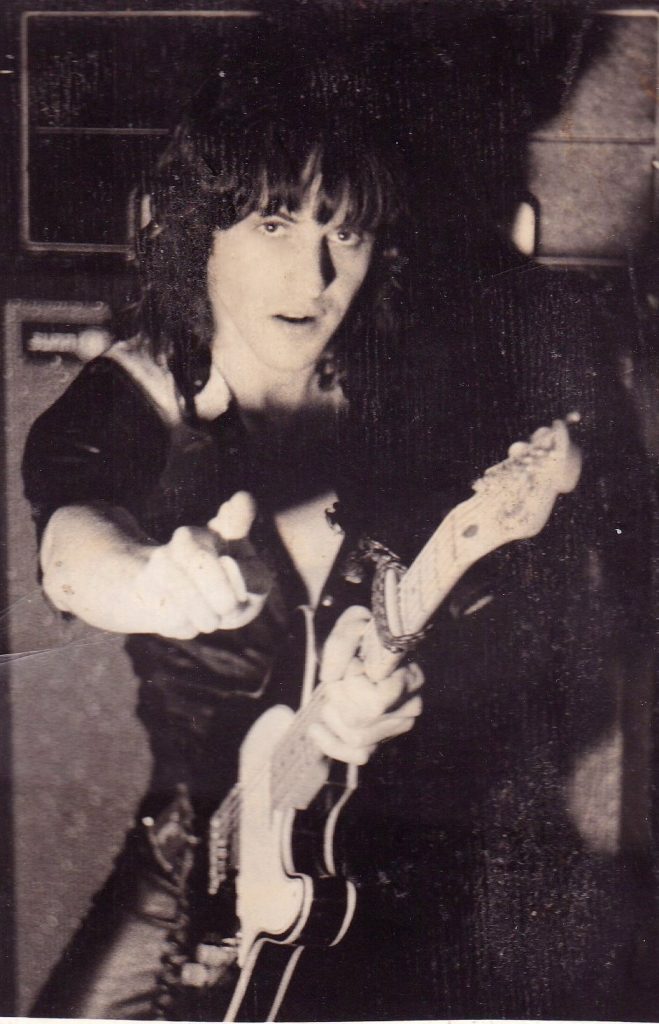 "Man, this guy is a red hot slide player!
Johnny Winter"
"Perhaps only the Australian Dave Hole is comparable in the slide guitar stakes, as Canadian Paul Fenton plays some of the most mesmerising, warm toned slide guitar you have ever heard…A majestic player who at times seems to weave his guitar lines through the eyes of an imaginary needle…."
Pete Feenstra, London England
Paul Fenton's virtuoso slide guitar playing and improvisation has been prompting such comments for many years. His musical roots have always been in the blues, but Paul's musical career first took off when he co-founded the seminal Canadian punk rock band The Action, alternately playing slide, rhythm and lead guitar. Since those early years, he has incorporated innovative use of open tunings and more sophisticated echo and distortion equipment to develop a signature otherworldly sound full of amazingly fluid riffs that some reviewers have dubbed "psychedelic blues." His songwriting has evolved from the snarling sonic blasts of the punk years through increasingly more complex songs spanning multiple genres, often involving thoughtful themes that reflect on fundamental life issues. Paul remains committed to his slide and blues roots, however, and every album includes at least one cover of a classic song by one of the past blues or country players who were the architects of rock n' roll.
Paul has opened for and/or played with Derek Trucks, Sonny Landreth, Wide Mouth Mason, Rory Gallagher, Jack Bruce, Johnny Winter, Mick Taylor, Walter Trout, John Mayall, Coco Montoya, Steppenwolf, The Strawbs, Nazareth, Bernard Allison, Mick Ronson, John Hiatt, Roy Buchanan, George Thorogood, Thirteen Engines, The Stranglers, Guy Davis, Tom Cochrane, and The Headstones. Members of the Guess Who, Goddo, The Blushing Brides, McKenna Mendelson Mainline, The Anger Brothers and Downchild have performed live with him. In private jams and conversations Paul has picked the brains of many of these and other stars, including (among others) Johnny Winter, Mick Taylor, Roy Buchanan, Mick Ronson, David Gilmour, Rory Gallagher and John Lee Hooker.
Paul utilizes multiple open tunings, including: D, E, D modal, a D minor 'drone' tuning (taught to him by bluesman Guy Davis when they played together at the Ottawa Folk Festival in 1999), C and more. He has been signed to Montreal's Montreco Records, New York City's Torrid Records (produced by legend Mick Ronson who also played guitar on the session), and The Netherlands' Continental Records (Rounder-Universal), and was distributed by Germany's In-Akustik.
Some of Paul's favourite slide players are (in no particular order): Tampa Red, Blind Willie Johnson, Blind Willie McTell, Rory Gallagher , Duane Allman , Johnny Winter, Elmore James, Brian Jones and David Gilmour from Pink Floyd.
Paul's History
The Early Years
Before Paul was old enough to be playing, two important musical "imprintings" came from the Ed Sullivan show, once when he saw the Beatles and once when he heard Brian Jones of the Rolling Stones play slide guitar on "Little Red Rooster." Within a few years Paul began teaching himself the guitar, relying at first on several "how to play slide guitar" books from the local library. More inspirations followed, such as hearing Mississippi Fred McDowell's "North Mississippi" version of the blues and slide work, hearing (and meeting) jump and electric blues pioneer T. Bone Walker at the Lehibou club, and hearing Syd Barrett of Pink Floyd.
In 1973, Paul was finally hooked for life on a career in music when he ventured down Highway 401 to see and hear the explosive blues rock of 'the modern-day Robert Johnson,' Irish guitar legend Rory Gallagher at the Colonial Tavern. After hearing Gallagher pour it all out in one of his classic live performances, Paul devoted his life to music.